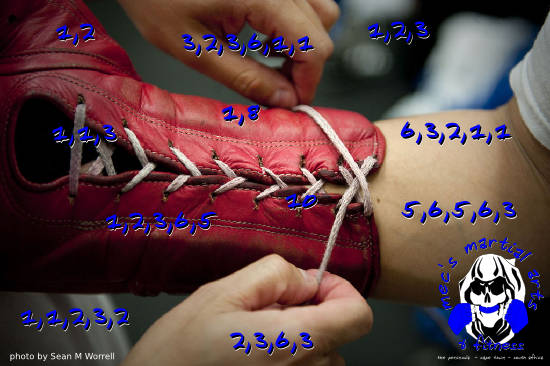 The reason for a punch numbering system is simple. Like all shorthand notation systems it's designed to simplify communication when time is of the essence. Calling even a simple combination by punch names; jab, cross, hook, uppercut is cumbersome compared to 1,2,3,4 (or is that 1,2,3,6?). Combinations are often given 'nicknames' for the same reason (been on a 'short date' recently?). Watch a top boxer string together 50 - 80 punches on the pads & the need for shorthand becomes obvious. Elbows, knees & kicks aren't usually numbered because they are seldom thrown in combinations of their own, although they may be added to punching combinations of course.
When 1,2,3,4,5 = 1,2,3,6,5
There are many different numbering systems. They vary from art to art, boxing, Muay-Thai, MMA etc. & even within those arts. Different systems use different punches & in different sequences. Changing systems & even coaches can mean learning new numbering systems. There are even times when a coach may change systems with existing athletes, as I am. For historic reasons I've been using what is often referred to as the basic or beginner MMA system for box4fun:
Jab
Cross
Front Hook
Rear Uppercut
Front Uppercut
Overhand
The focus has gradually shifted from a fitness class with a strong boxing focus to a true kickboxing for MMA class which has great fitness benefits. Simple things like calling body hooks became a problem, since the basic count doesn't include a 'rear hook'. Body hooks are 8 & 9 in Muay Thai & simply body or low 3 & 4 in boxing & MMA etc. The absence of the rear hook is justified. It is a dangerous punch to throw, is seldom thrown & should only be while stepping the rear leg forward, making it a lead hook (just with switched stance). It is however needed for the body shot.After much deliberation I have decided to use the standard 6 (shared by boxing, MMA, Muay Thay, Kickboxing etc. except in some systems) & then add the punches where I deem the risk / reward trade off to be in the strikers favour. Defence first, you have to survive in order to win.
Jab
Cross
Front Hook
Rear Hook
Front Uppercut
Rear Uppercut
Front Russian Long Hook
Overhand
Switch-Step Jab / Superman Jab
Superman
Front Backhand
Rear Backhand
Most other punches are a variation on these. I haven't included the rear russian long hook for the same reason the rear hook was excluded; it's dangerous & if you step forward it's a front hook anyway. Doing so also avoids the 'holes' in the series. The overhand doesn't have a lead hand equivalent so pairing it with the russian long hook prevents 9 being empty (not assigned a punch) & brings the 'supermen' up 2 in the count. The others are variations or unsafe. Odd numbers are always front hand & even, rear hand, making it easy to understand the combination.